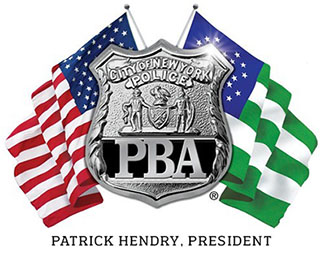 PRESS RELEASE
May 8, 2007
---
PBA nominations
In accordance with the bylaws of the New York City Patrolmen's Benevolent Association, nominations for elective office were accepted at the monthly delegates' meeting held today (Tuesday, May 8), with no candidates placed in opposition to the six top citywide positions led by two-term President Patrick J. Lynch.
Lynch said: "New York City's 24,000 active police officers have given us a mandate to continue the fight against an unjust administration that stands in clear violation of the Taylor Law for failing to pay New York's police officers a competitive market rate of pay. We will use all the PBA's power to achieve fair treatment and fair compensation for our members, who risk their lives every day to make New York the safest big city in America."
The unopposed slate:
| | | |
| --- | --- | --- |
| President: |   | Patrick J. Lynch |
| 1st Vice President: |   | John Puglissi |
| 2nd Vice President: |   | Mubarak Abdul-Jabbar |
| Treasurer: |   | Joseph Alejandro |
| Recording Secretary: |   | Robert Zink |
| Citywide Trustee: |   | Brian Mooney |
Some local borough races for Trustee and Financial Secretary have been contested, and voting in those races will occur at the end of the month.
Pat Lynch became the youngest PBA president in history in July 1999. He will begin a third consecutive four-year term on July 1.
# # #The Police Benevolent Association of the City of New York (PBA) is the largest municipal police union in the nation and represents nearly 50,000 active and retired NYC police officers.