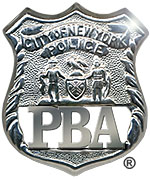 PRESS RELEASE
January 25, 2007
---
Police quit at alarming rates, wasting $176 million
See also charts showing
The trend that began in the early 1990s of fully trained and experienced police officers quitting the NYPD for better paying jobs has reached alarming levels with a 42% increase in 2006 over 2004, PBA president Patrick J. Lynch announced today.   Resignations grew from 635 quitting in 2004 to 902 quitting in 2006.  2006 was the second highest year for NYPD resignations except for the year immediately following the attack on the World Trade Center when a record number 1,224 quit for better paying jobs.
Lynch said:"The NYPD and the city of New York have a very serious problem.  They can't keep the police officers they have and they can't recruit enough good quality candidates to keep staffing levels up.  Both problems are caused by severely uncompetitive pay.
"The 1,769 fully trained officers who quit during the past two years could staff nearly a dozen New York City precinct houses.  It costs an estimated $100,000 to recruit, investigate, hire and train a single police officer.  That money is wasted when an officer quits the department for a better job.  The estimated $176 million used to recruit and train the officers who quit could have been put to much better use by paying a competitive salary that would have kept most of those experienced officers patrolling the streets of New York instead of other communities.
"Until the late 1980s NYPD police officers' salaries were among the highest in the nation.  There is a clearly defined trend showing that, as NYPD salaries slipped behind other law enforcement agencies, the number of fully trained and experienced NYPD officers who quit for other jobs grew dramatically.   With 867 and 902 officers quitting in 2005 and 2006, respectively, the loss of experienced officers has reached alarming levels.  New York City must pay its police a competitive salary at all levels if it expects to attract new officers and keep experienced officers on the job."
Six times as many police officers quit the department in 2006 as in 1991.  These numbers do not include police officers that retired.