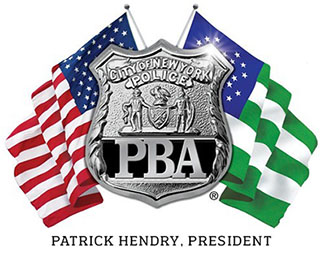 PRESS RELEASE
June 13, 2007
---
Statement by Patrick J. Lynch on shootings
PBA president Patrick J. Lynch said:
"It is sad to realize that these miserable individuals will be given much better treatment in the criminal justice system then they gave our brother officers.  Armed with automatic weapons, they did not hesitate to fire at officers Yan and Timoshenko who would have arrested them for possession of a stolen vehicle. 
"This case, and too many others like it, underscores the need for a death penalty in New York State that can withstand constitutional muster.  Other states have such laws and it is time for New York State legislators to find the political will to impose the death penalty on those who kill, or attempt to kill, law enforcement officers.
"Once again, I'd like to express the deepest gratitude of all New York City police officers to all of the law enforcement officers who participated in the search for and capture of the shooters of our brother officers Yan and Timoshenko.  Their support, dedication and professionalism are to be greatly admired. 
"Let it be known by all of those who think nothing of attacking an officer of the law that if you attack one of us anywhere in this country, you attack all of us, and that we will band together and work tirelessly to bring you to justice.   
"I would also like to ask all who get this message to join us in keeping officer Timoshenko and his family in your thoughts and prayers."
# # #The Police Benevolent Association of the City of New York (PBA) is the largest municipal police union in the nation and represents nearly 50,000 active and retired NYC police officers.