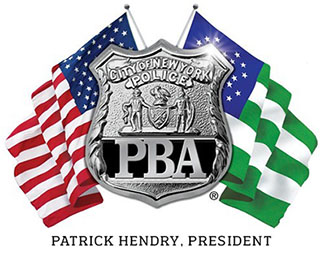 PRESS RELEASE
November 15, 2010
---
PBA President forced to skip Zadroga Bill lobbying trip to attend another 9/11-related funeral of a Police Officer
New York City Patrolmen's Benevolent Association (PBA) president Pat Lynch had intended to lobby the US Senate on Tuesday, Nov. 16th, for the passage of the 9/11 Health and Compensation act (the Zadroga Bill) but instead will attend the funeral of veteran police officer David Mahmoud, 49, of the 75 Precinct who died of a very rare and particularly hideous, disfiguring form of cancer after working over 60 hours at and around Ground Zero.
"Tomorrow, we will bury yet another unsung hero, Police Officer David Mahmoud, who like so many others, uniformed and civilian alike, answered the nation's call when America was attacked on September 11th," PBA president Pat Lynch said.  "Everyone who worked at or around Ground Zero was exposed to unprecedented levels of toxins as they worked for the nation's recovery from the worst terrorist attack in our history.  The poison in the air paid no attention to your uniform, rank or job.  We stood side by side with construction workers, military personnel and volunteers and we all breathed in and ingested the same toxic air and dust," Lynch said.  "David Mahmoud served the City of New York for 15 years as a police officer.  He risked his life day in and day out and made the ultimate sacrifice because terrorists wanted to attack America and chose to do so in New York City by striking the symbolic structures of the World Trade Center.  It is time to recognize the debt owed to all those exposed when they answered the nation's call by passing the Zadroga bill."
Police officer David Mahmoud suffered and died from squamous cell carcinoma of the nasal septum that disfigured his nose and face.  He lived in Medford, NY, with his wife Bessie Mercado and their three daughters: Cynthia, 22, Ashley, 18, and Amber, 14.  His funeral will be held on Tuesday, November 16th, at 10:00 AM at St. Francis De Sales Church, 7 Amity Street, Patchogue, NY.
# # #The Police Benevolent Association of the City of New York (PBA) is the largest municipal police union in the nation and represents nearly 50,000 active and retired NYC police officers.