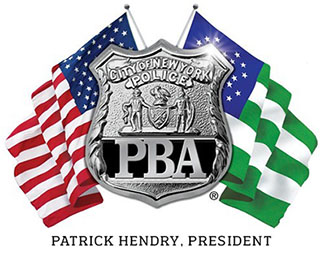 PRESS RELEASE
December 10, 2010
---
PBA President outraged over low bail for attempted murder of a Police Officer
On the eve of the annual PBA Widows' and Children's Holiday party, the PBA has learned that a Brooklyn judge disregarded a prosecutor's pleas to remand a would-be cop killer to custody and instead established a low bail allowing the threat to society to walk the streets while the police officer remains hospitalized.
PBA president Patrick J. Lynch said: 
"Every police officer in New York City is outraged by Brooklyn judge Gustin Reichbach's complete disregard for the life-threatening dangers police face everyday in order to keep the city safe.  Police officer Ricardo Ramirez would have been another name on the police memorial wall except for the quick reaction of his fellow officer Brian McGiver who recognized a potentially fatal gunshot wound and used a belt as a tourniquet saving officer Ramirez's life. 

"The shooter, Elijah Foster-Bey, is another punk who was carrying an illegal firearm when confronted by police and fled in an attempt to avoid being arrested with the gun.  He ran into a building and was trapped in a dead end at the top of a stairway where he turned and fired on three police officers chasing him up the stairs nearly killing officer Ramirez.  We are calling on Judge Reichbach to acknowledge this terrible mistake and revoke this near cop-killer bail and remand him to custody."
Elijah Foster-Bey, 18, who was shot when police returned fire, was charged with Attempted Murder of a Police Officer 2 degree which customarily results in incarceration until trial.  The shooting occurred at 8 PM on Sunday, October 17th at 454 Bradford Street, in East New York, Brooklyn, 75th Precinct.
# # #The Police Benevolent Association of the City of New York (PBA) is the largest municipal police union in the nation and represents nearly 50,000 active and retired NYC police officers.