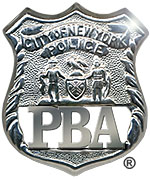 PRESS RELEASE
December 12, 2015
---
Santa brings gifts to the children of fallen Police Officers
Scores of children of police officers killed in the line of duty and their families were showered with gifts, had a visit with Santa Claus and mingled with celebrities at the annual New York City Patrolmen's Benevolent Association's Widow's and Children's Holiday Party hosted by Peter and Penny Glazier at their restaurant, Michael Jordan's The Steakhouse N.Y.C, located in historic Grand Central Station in the heart of Manhattan.
PBA president Patrick J. Lynch said: 
"This is a day to bring good cheer and fun to the families of our fallen heroes and to show them that they will never be forgotten.  It's a time for Santa and toys and showing these families a great and festive time for the holidays.  The PBA is deeply grateful to Peter and Penny Glazier for hosting this very special party again this year at their magnificent restaurant, Michael Jordan's The Steakhouse N.Y.C., and to all of the celebrities who graciously joined us.  I would also like to thank Capital One Bank for their very generous donation to defray the cost of party gifts for the families of our fallen heroes."
Penny Glazier, Co-Owner of Michael Jordan's The Steak House N.Y.C., said:
"Especially during the holidays, these children and their families of fallen police officers need a welcoming and supportive environment to celebrate the season.  Now in the 16th year of our Annual Holiday Event, we're honored to support the Patrolmen's Benevolent Association and its mission to provide aid and assistance to widows, widowers, and children of police officers who have lost their lives in the line of duty."
Lynda J. Rissman, a spokesperson and district manager for Capital One Bank, said:
"Capital One Bank is a proud sponsor of the PBA and the widows and children of our fallen heroes. We are committed to supporting those who have given so much.  Happy holidays from Capital One Bank".
The party also featured costumed characters, jugglers, face painting, magicians, NYPD horses, motorcycles and canine teams and photos of families with Mr. Claus himself.
Past holiday parties have been attended by such luminaries as: Robert DiNiro; James Gandolfini; Burt Young of Rocky fame: Tony LoBianco; LLCool J; Whoopie Goldberg; Tony Sirico and John Doman (of TV's Gotham), The Monkee's Micky Dolenz and radio's Elvis Duran, to name just a few, as well as professional athletes, authors and elected officials.