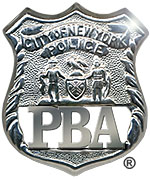 PRESS RELEASE
January 29, 2015
---
Following release of DOI report PBA president says close Bronx Defenders and disbar attorneys who participated in cop killer video
Following the release of a DOI investigation that found the Bronx Defenders knowingly participated in a rap video calling for the murder of police officers and then attempted to cover it up, PBA president Patrick J. Lynch is calling for the city to shut down the Bronx Defenders' operation and to seek the disbarment of the lawyers involved for their violation of their oath as officers of the court.
           
PBA president Patrick J. Lynch said:
"It is clear that Bronx Defenders who knowingly participated in this despicable video calling for the murder of police officers have violated their oath as officers of the court and should be disbarred as a result.  Furthermore, the DOI investigation has uncovered that the Bronx Defenders, an organization heavily funded by tax payer's dollars, is clearly fostering an anti-police atmosphere and as such, we believe they should be shut down immediately and permanently.  There has always been adequate numbers of lawyers who are willing and able to represent the indigent and who do not harbor ill will against police officers.  The city should also seek to recoup any tax dollars that were used by the Bronx Defenders during their participation in the making of this immoral, horrendous video."
The video, titled "Hands Up," includes images of guns held to a police officer's head and lyrics proclaiming "...a cop got to get killed." It also features appearances by at least two Bronx Defenders' attorneys and scenes that appear to have been filmed inside the organization's offices.
According to Comptroller's Office data, the Bronx Defenders was awarded more than $41 million in City contracts during Fiscal Years 2013 and 2014. Federal data indicate that the organization has received $1.5 million in U.S. Department of Justice grants since 2009 under a program named in memory of slain New York City Police Officer Edward Byrne.