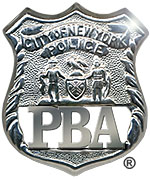 PRESS RELEASE
May 27, 2015
---
Police Officers' Personal Information at Risk
Brian Fusco and his Strengthen the Shield slate of candidates for PBA elective office have jeopardized the privacy and security of PBA members by unlawfully obtaining and providing to a commercial mailing house, the names and addresses of thousands of NYC police officers.
The PBA has learned from the Chairman of the PBA's Board of Tellers that Brian Fusco's "STS" slate breached PBA members' security in order to generate a targeted mailing to all Tier 3 members from an unauthorized mailing house. Brian Fusco and the mailing house have been contacted by the PBA's General Counsel and ordered to cease and desist from using the illegally obtained list and directed to return the list and any member information immediately. The PBA has initiated an investigation into the matter.

PBA President Patrick J. Lynch said:
"Police officers' personal information must be treated with the utmost privacy in order to keep them and their families safe. This administration has fiercely guarded our member mailing list against all intrusions since taking office in 1999, and we have taken legal action to prevent the unauthorized use of our list in the past. In the context of the PBA elections, the union provides a single, bonded mailing house — with whom we have comprehensive confidentiality agreements — with a single copy of the member mailing list, to be used to send communications on behalf of all certified candidates. This practice was to be followed by all candidates in the current election cycle, but the STS slate has disregarded the protocol and shared member address information with an unauthorized third party. This is an outrageous and inexcusable disregard for the safety of our members."
The investigation seeks to determine how the information was obtained and what laws and or department policies may have been violated. The PBA intends to take any and all appropriate action to protect its members' confidential information.