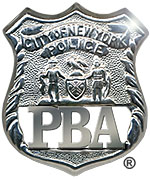 PRESS RELEASE
January 27, 2015
---
PBA President calls on Mayor and Speaker to buy new bullet-resistant vests now, establish funding for replacements and opens door for discussion on the issue
Following the announcement of support for funding in FY 2016 for the purchase of new bullet-resistant vests for NYC police officers, PBA president Patrick J. Lynch has called for the immediate purchase of the vests during this fiscal year, the establishment of regular funding to replace outdated vests and has opened the door to the Mayor and Speaker of the City Council for a discussion on the issue.
PBA president Lynch said:
"While we are very appreciative of both the Mayor's and Council Speaker's support for the purchase of new vests in FY 2016, we have called upon them both to move up the timeline and to purchase this life-saving equipment immediately. We see absolutely no reason to have to wait a half year or more in order to equip our members with the best protection available.

"The Mayor and Council Speaker have both agreed on the need for the purchase, it is clear that the funds are available and there is absolutely no reason to delay.  Additionally, it is time for the city and the NYPD to establish the regular replacement of vests that have past the manufacturer's warranty date.  Doing so will show real concern and support for the men and women who put their lives on the line to keep this city safe.

"The PBA has been fighting to establish that program for years and we believe that the city has an obligation under law to provide what is essentially critical employee safety equipment to our members. Now is the time."
In the letter, Lynch invites the Mayor and Speaker to contact him regarding a discussion of the issue.