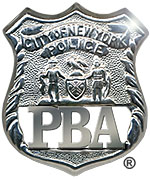 PRESS RELEASE
January 25, 2015
---
PBA says halt funding to Bronx Defenders during investigation of participation in cop-killer video
PBA president Patrick J. Lynch today asked city and federal officials to investigate the Bronx Defenders' role in the creation of a music video calling for the murder of police officers and to stop the flow of public funds to the parties who participated.
The video, titled "Hands Up," includes images of guns held to a police officer's head and lyrics proclaiming "...a cop got to get killed." It also features appearances by at least two Bronx Defenders' attorneys and scenes that appear to have been filmed inside the organization's offices.
In letters to the Mayor, the City Council Speaker, the Comptroller and the U.S. Attorney General, Lynch said that the video "bluntly directs the viewer to murder a police officer" and that any use of taxpayer money to subsidize such a message violates the public's trust.
 
PBA president Patrick J. Lynch said: 
"The Bronx Defenders' role in spreading this dangerous message must not pass without a complete investigation and appropriate action by any governmental organization that plays a role in its funding or that collaborates with it in any way. We urge these City and federal officials to use their full powers to ensure that the organization and every individual who participated in this project is held accountable. Not a single additional cent of City or federal money should support the parties who played a role in this video."
According to Comptroller's Office data, the Bronx Defenders was awarded more than $41 million in City contracts during Fiscal Years 2013 and 2014. Federal data indicate that the organization has received $1.5 million in U.S. Department of Justice grants since 2009 under a program named in memory of slain New York City Police Officer Edward Byrne.
While it waits for the City and the Justice Department to do their part, the PBA has also launched its own investigation into the nature and extent of the Bronx Defenders' involvement in the video by retaining attorney Norman R. Cerullo, who is also the son of a New York City police officer murdered in the line of duty.
Police Officer Norman Cerullo was shot and killed along with his partner, Police Officer Christie Masone, in 1978 in the 79th Pct., the same precinct in which Police Officers Wenjian Liu and Rafael Ramos were assassinated on December 20, 2014.