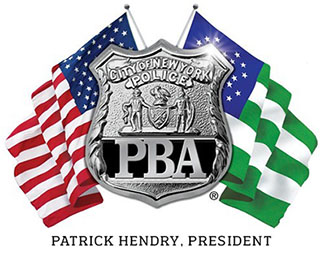 PRESS RELEASE
December 7, 2019
---
A joyful party for the families of fallen Police Officers
Hundreds of family members of police officers killed in the line of duty were showered with gifts, had a visit with Santa Claus — who was led in by the NYPD Emerald Society Pipes and Drums — at the annual New York City Police Benevolent Association's Widows' and Children's Holiday Party held at Russo's on the Bay, Howard Beach.
PBA president Patrick J. Lynch said:
"We treasure the families of our fellow officers who have given their lives in the line of duty. This holiday party is a festive occasion where hundreds of family members gather for fine food, music and fun. And, of course, it wouldn't be much of a holiday party without a visit from Old St. Nick and lots of presents. We are also very grateful for the generous donation made by Amazon to these very special and deserving families."
Celebrities often stop by to share a holiday drink and spend time with the families. Last year, cast members from the hit TV show "Blue Bloods" joined in the festivities. Will Estes who plays Police Officer (now Sergeant) Jamie Reagan, Steve Shirripa of Soprano's fame who plays Detective Anthony Abetenmarco and retired NYPD Detective Jim Nuceforo, who serves as the show's police technical advisor and portrays the Commissioner Reagan's security man, all enjoyed a visit to the holiday party.
The party also featured costumed characters, jugglers, face painting, magicians, NYPD horses, motorcycles and canine teams, and photos of families with Mr. Claus himself.
Past holiday parties have been attended by such luminaries as: Robert De Niro; Bradley Cooper; Kevin James; Blue Blood's Bob Clohessey; Burt Young of Rocky fame; illusionist David Blaine; Tony Lo Bianco; LL Cool J; Whoopie Goldberg; James Gandolfini; Vincent Pastore and Tony Sirico of Sopranos fame; John Doman (of TV's Gotham and The Wire;) the Monkee's Micky Dolenz and radio's Elvis Duran, to name just a few, as well as professional athletes, authors and elected officials.
# # #The Police Benevolent Association of the City of New York (PBA) is the largest municipal police union in the nation and represents nearly 50,000 active and retired NYC police officers.