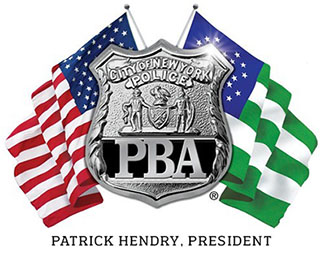 PRESS RELEASE
March 7, 2019
---
Parole Board secretly disconnect's the PBA's "Keep Cop-Killers in Jail" computer access
The Police Benevolent Association of the City of New York (PBA) has learned that the direct link from the PBA's website to the NY State Department of Corrections and Community Supervision (DOCCS) Parole Board that allows the public to register opposition to the release of cop-killers seeking parole was secretly disconnected after two years of operation. The unilateral termination of the service came to light when a police widow inquired about the status of the letters that were sent in opposition to the parole of her husband's killer who is seeking parole. The letter portal which allowed the public to send a letter through the PBA's website directly to the board opposing the parole of one or all cop-killers was instituted in 2012 as a permanent program.
PBA President Patrick J. Lynch said: 
"With each interaction with DOCCS' Parole Board, a state agency that reports to the Governor, it becomes even more clear that this is a rogue agency over which no one exercises any control. In the past, Parole Commissioners have, in violation of statutes and policies, decided to release murderers without having reviewed important documents like the judge's sentencing minutes.  In a recent case, Parole Commissioners were overheard saying that they decided to release a cop-killer before even hearing the impact statement from the police officer who was shot four times and whose life was irreparably and seriously harmed by the shooter. So it is no surprise that DOCCS Parole Board has no interest in considering the public's opinion regarding the release of cop-killers back onto their community's streets. We are calling on DOCCS to immediately reinstate the PBA's direct 'Keep Cop-Killers in Jail' letter link and to consider the weight of community opposition in deciding parole cases."
The DOCCS failed to inform the PBA that letters were no longer being generated even after several high-profile radio commercials, widely reported by the media and calling for the public to use the direct link, would have produced over 200,000 letters or more through the PBA's website. PBA president Lynch has sent a letter to the DOCCS chairwoman calling for the immediate reinstatement of the computer link.  
# # #The Police Benevolent Association of the City of New York (PBA) is the largest municipal police union in the nation and represents nearly 50,000 active and retired NYC police officers.