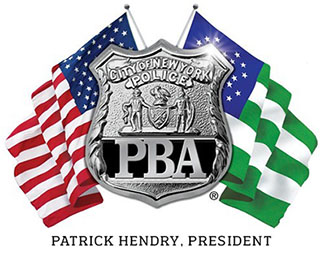 PRESS RELEASE
February 27, 2019
---
PBA begins appeal process of body worn camera decision
The Police Benevolent Association of the City of New York (PBA) began the appeals process today at the Appellate Court in Manhattan, challenging the Court's decision regarding the arbitrary release of police body worn camera (BWC) video.  If the decision is upheld, the PBA will seek to overturn the decision at the Court of Appeals.
PBA President Patrick J. Lynch said: "Body warn camera footage (BWC) is presently available for complete review by a host of investigative bodies including the NYPD's Internal Affairs Bureau, Civilian Complaint Review Board, all of the District Attorney's offices and virtually any law enforcement organization that has a need to view it.  Additionally, crime victims, arrestees, police officers, bystanders and any other interested party, all have the right by law to stand before a judge and argue for or against the release of video footage.  A judge, whose primary interest should be the ends of justice, should decide if releasing specific video supports or defeats those ends.  We have to keep the decisions to randomly release BWC video out of the hands of politicians and their appointees."
# # #The Police Benevolent Association of the City of New York (PBA) is the largest municipal police union in the nation and represents nearly 50,000 active and retired NYC police officers.