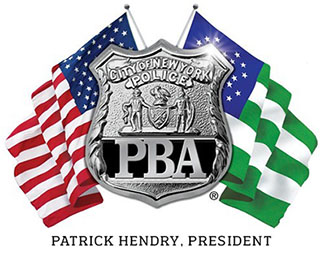 PRESS RELEASE
April 29, 2019
---
PBA challenges CCRB's authority to prosecute Pantaleo disciplinary case
The Police Benevolent Association of the City of New York (PBA) will be in court Tuesday afternoon, May 30, 2019, to challenge the authority of the Civilian Complaint Review Board (CCRB) to prosecute the NYPD's disciplinary case against Police Officer Daniel Pantaleo for his role in the Eric Garner case.
PBA President Patrick J. Lynch said:
"We are challenging the CCRB's authority to prosecute this case because it is clear from the erroneous details provide in the complaint that the alleged complainant was not an eyewitness to the event. The PBA will use every legal means to defend Police Officer Pantaleo who responded to a crime condition under direction from the highest level of the department, and used the minimum force necessary to effect an arrest. Evidence will show conclusively that Mr. Garner was not choked to death but died as a result of his already seriously compromised health. Had he not resisted and submitted to the lawful arrest, it is likely that he would be alive today. If this trial is decided on the facts of the case and not on political considerations or the emotions from the street, then Police Officer Daniel Pantaleo will be cleared of any wrong doing whatsoever. The PBA will fight to ensure that he does not become a political scapegoat." 
# # #The Police Benevolent Association of the City of New York (PBA) is the largest municipal police union in the nation and represents nearly 50,000 active and retired NYC police officers.