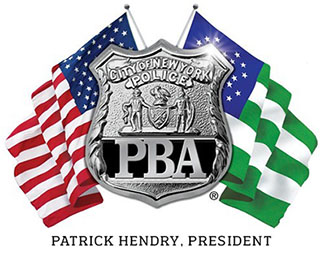 PRESS RELEASE
July 23, 2019
---
PBA demands stronger laws after "water bucket" attack videos
An additional video circulating on social media today shows two police officers being verbally abused and threatened by a civilian on a subway train: https://twitter.com/NYCPBA/status/1153710270973390849
PBA President Patrick J. Lynch said:
"Since these outrageous videos surfaced, a chorus of lawmakers has condemned the behavior as 'unacceptable' and 'disrespectful.' We have been down this road before — words of support are meaningless if they're not backed up by concrete action to address the lawlessness on our streets." 
"The NYPD has issued guidance regarding the offenses for which a police officer could make an arrest in these situations.  But our District Attorneys are almost universally refusing to prosecute these same offenses, and new laws passed this year in Albany will require cops to merely issue a ticket for these and many other crimes. The chaos will continue to escalate unless something changes.
"We are calling on City Hall and Albany to roll back the existing policies that have emboldened criminals, and to create meaningful penalties for anyone who harasses or interferes with a police officer in the course of his or her official duties.  At a minimum, there should be a felony charge for assaulting a police officer by throwing or spraying water or any other substance, and a misdemeanor charge for the attempt to do so. It's time for lawmakers to take a stand against disorder, on behalf of their constituents and the cops who protect them."
# # #The Police Benevolent Association of the City of New York (PBA) is the largest municipal police union in the nation and represents nearly 50,000 active and retired NYC police officers.