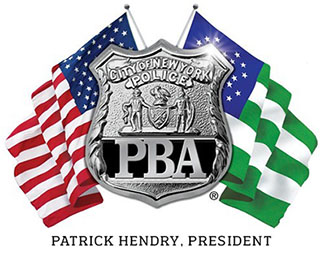 PRESS RELEASE
February 7, 2019
---
PBA President's Statement on City Council Hearing on Police Discipline
The NYC Council's Committees on Public Safety and Justice System held a hearing today on several bills related to police officer discipline. The NYC PBA's detailed statement to the Committees regarding the bills is attached and available here.
PBA President Patrick J. Lynch said:
"The City Council needs to open its eyes to the alarming consequences of its endless anti-police grandstanding and pro-criminal lawmaking. In the past few days alone, we have seen a knife-point home invasion by a twice-paroled violent felon, a gang murder on the 7 train, a random daytime slashing, a hardworking grandmother struck down by a stray bullet and four shot in a Brooklyn housing complex — and those are just the incidents that made the front pages.  Meanwhile, the Council is busy trying to expose police officers to more threats and harassment, or dreaming up duplicative and counter-productive new disciplinary schemes that paint police officers as villains, while criminals get a free pass for almost every offense.Their demagoguery is helping create the growing chaos we've witnessed over the past week, and it will only get worse.They need to spend more time listening to New Yorkers who have real public safety concerns and less time scoring political points by trying to handcuff the cops."   
# # #The Police Benevolent Association of the City of New York (PBA) is the largest municipal police union in the nation and represents nearly 50,000 active and retired NYC police officers.