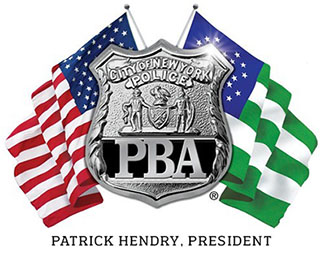 PRESS RELEASE
March 17, 2019
---
PBA to Parole Board: We will hand deliver letters opposing the parole of cop-killers
In a direct response to the secret decision by the NY State Department of Corrections and Community Supervision (DOCCS) Parole Board to ignore letters from the public opposing the release of cop-killers sent via the Police Benevolent Association of the City of New York (PBA) website, the PBA will now print the letters and hand deliver them directly to DOCCS offices until the electronic delivery is reinstated. 
The original "Keep Cop-Killers in Jail" tool was instituted as a permanent program in 2012. With just a few mouse clicks, it sent electronic copies of letters of opposition directly to the Parole Board's offices, where they were printed and placed in an inmate's file before their parole hearing. Recently, the widow of a murdered police officer who was inquiring about the number of letters opposing the release of her husband's killer, was told by DOCCS that the program had been discontinued after two years of activity.  It was terminated without any notification from DOCCS to the PBA.
PBA President Patrick J. Lynch said:
"DOCCS' Parole Board is clearly not interested in hearing from police supporters or from those who believe that cop-killers should never be paroled. We will not allow those voices to be silenced or ignored. The PBA has reconfigured its "Keep Cop-Killers In Jail" page of our website at www.nycpba.org so that letters of opposition will be received by the PBA, printed and delivered by hand to the Parole Board. The Board must hear from the communities into which they will release convicted cop-killers. They have purposely ignored hundreds of thousands of letters calling for the continued incarceration of cop-killers and that is an outrage.  We are calling on anyone who believes that those who kill a police officer have forfeited their right to freedom forever to visit www.nycpba.org, click on the "Keep Cop-Killers In Jail" box, and follow the simple instructions to make the Parole Board sit up and listen."
President Lynch sent a letter to DOCCS chairwoman Tina Stanford on March 1, 2019 demanding the reinstatement of electronic delivery to the parole board and has yet to receive a response of any kind from Ms. Stafford.
There are presently 62 people convicted of murdering police officers who are now or will soon be eligible for parole.  They were convicted after the death penalty was struck down and before the 2005 adoption of the "Crimes Against Police Act" which established life without parole for cop-killers as the most severe penalty for murdering a police officer.  
# # #The Police Benevolent Association of the City of New York (PBA) is the largest municipal police union in the nation and represents nearly 50,000 active and retired NYC police officers.