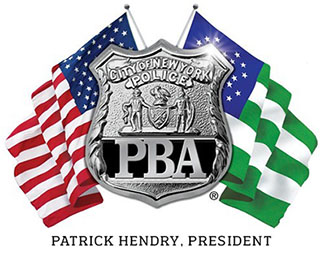 PRESS RELEASE
July 22, 2019
---
PBA statement on "water bucket" attacks on Police Officers
Multiple videos circulating on social media appear to show several separate incidents in which individuals interfered with police officers performing their duties, by dousing them with water or some other liquid and/or throwing objects at them.
Video 1:  https://twitter.com/NYScanner/status/1153357145389326336
Video 2: https://twitter.com/NYScanner/status/1153354905761079297
PBA President Patrick J. Lynch said:
"Our anti-cop lawmakers have gotten their wish: the NYPD is now frozen. It's not the fault of these police officers. It's the end result of the torrent of bad policies and anti-police rhetoric that has been streaming out of City Hall and Albany for years now.  We are approaching the point of no return.  Disorder controls the streets, and our elected leaders refuse to allow us to take them back. As police officers, we need to draw a line. In situations like this, we need to take action to protect ourselves and the public. The politicians may not care about the dangerous levels of chaos in our neighborhoods, but police officers and decent New Yorkers should not be forced to suffer."
# # #The Police Benevolent Association of the City of New York (PBA) is the largest municipal police union in the nation and represents nearly 50,000 active and retired NYC police officers.