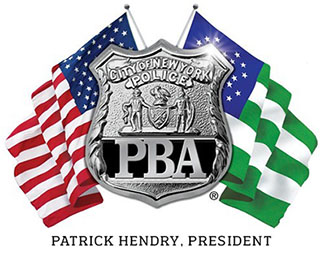 PRESS RELEASE
May 21, 2019
---
Trial testimony: Police Officers used textbook de-escalation method during Garner arrest
During the fifth day of testimony in P.O. Daniel Pantaleo's NYPD disciplinary trial, P.O. Justin Damico testified to the efforts made to de-escalate and calm Eric Garner whom he and P.O. Daniel Pantaleo were arresting for the illegal sale of untaxed cigarettes.  Damico, who was the Graffiti and Quality of Life officer in the 120 Precinct, testified that they observed Mr. Garner exchange currency for cigarettes with several people and that Garner became irate when approached.  P.O. Damico testified that most of the ten-minute encounter was used in an effort to calm the arrestee before actually moving in to cuff him.  Damico also said that he had encountered an irate Eric Garner committing the same infraction two weeks earlier but only gave him a warning about ceasing the illegal activity.
PBA President Patrick J. Lynch said:
"These two Police Officers were sent to correct a crime condition that was reported by the community through the NYPD's Chief of Department's officer.  Once they observed the violation, throughout this entire encounter, Police Officers Damico and Pantaleo utilized textbook de-escalation techniques to limit the use of force against a much larger and irate individual. As trained, one officer communicated with the subject while the other stood back. They used time to try and calm the subject who made it clear that he would not comply with their legal orders and who actively resisted efforts to handcuff him. And when it was clear that Mr. Garner would continue to resist arrest, they did not hit him with their hands, they did not use pepper spray on him or strike him in any way, nor did they draw their weapons in order to gain compliance. We are convinced that if the politics of the streets are removed from this process and the case is decided on a dispassionate hearing of the facts, that PO Pantaleo will be exonerated."
# # #The Police Benevolent Association of the City of New York (PBA) is the largest municipal police union in the nation and represents nearly 50,000 active and retired NYC police officers.