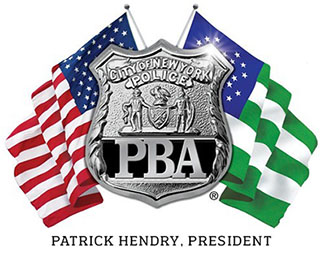 PRESS RELEASE
September 23, 2020
---
Double Cop-Killer Anthony Bottom Paroled
PBA and Police Widow: Cuomo and Legislature 'Stacked Deck' in Favor of Cop-Killers
The hero families of New York City Police Officers Joseph Piagentini and Waverly Jones received yet another gut-punch from the New York State Parole Board today, when they learned that the board has voted to release Black Liberation Army assassin Anthony Bottom from prison next month.
 The PBA and Piagentini family laid the blame for Bottom's shocking release squarely on Gov. Andrew Cuomo and the State Legislature, who changed state law and Parole Board rules to make it easier for violent criminals to challenge parole denials. Last month, a state court judge pointed to the revised standards when he ordered the Parole Board to re-do the October 2019 hearing that had kept Bottom behind bars.
PBA President Patrick J. Lynch said:
"We are furious with the cowards and lunatics who claim to lead this state. Gov. Cuomo and the State Legislature have spent years torturing crime victims, especially the hero families of fallen police officers. They knew that changing the parole guidelines would unleash more vicious killers like Anthony Bottom back onto our streets. They have chosen to stand with the murderers, cold-blooded assassins and radicals bent on overthrowing our society. We have now seen 16 cop-killers released in less than three years. We will continue to see more unless New Yorkers wake up and speak out against the madness being done in their names."
Diane Piagentini, widow of P.O. Joseph Piagentini, said:
"We are heartbroken to see another of Joe's killers set free by politics. But more than anything else, we are angry. Gov. Cuomo and the Albany Democrats might think they've won. They might think they've broken us. We have a message for them: We are not going anywhere. We will not go away until they are held accountable for the hell they've put us through. I owe that to my husband. My daughters owe that to their father.  And we owe it to every forgotten and ignored crime victim in New York State."
On May 21, 1971, Herman Bell, Anthony Bottom and Albert Washington, in a planned and intentional act, ambushed and viciously assassinated Police Officers Joseph Piagentini and Waverly Jones in front of the Colonial Park Houses (now the Rangel Houses) in Harlem.  PO Jones died instantly but PO Piagentini was only wounded in the initial shooting.  While PO Piagentini pleaded for his life, invoking his wife and two daughters, Herman Bell emptied two guns into the already seriously wounded officer.  He died on the way to the hospital.  The three Black Liberation Army members were convicted and sentenced to 25-years-to-life, the most serious penalty available at the time. 
Albert Washington died in prison and Herman Bell was paroled in April 2018. After Bottom's most recent parole denial last October, he appealed the decision in state Supreme Court.  In an August 10, 2020, decision granting Bottom a new hearing, Judge Stephan G. Schick ordered the board to "provide an individualized explanation for departing from the completely low COMPAS [Correctional Offender Management Profiling for Alternative Sanction] risk scores" in the event that it denied Bottom's parole again.  An inmate's score on the COMPAS assessment tool was given greater weight in the Parole Board's decision-making following 2011 amendments to the Executive Law and 2017 revisions to the Parole Board rules.

New York State Cop-Killers Released Since December 2017
John Ruzas — RELEASED 12/18/17
Killer of Trooper Emerson Dillon 
Herman Bell — RELEASED 4/27/18
Killer of PO Joseph Piagentini and PO Waverly Jones 
Carlos Flores — RELEASED 4/27/18
Killer of PO Robert Walsh
Robert Hayes — RELEASED 7/24/18
Killer of PO Sidney Thompson
Demetrius Bennet — RELEASED 10/24/18
Killer of PO Ray Cannon 
Judith Clark — RELEASED 5/15/19
Killer of Sgt. Edward O'Grady, POs Waverly Brown and Peter Paige
Larry Johnson — RELEASED 5/15/19
Killer of PO Anthony Abruzzo
Betsy Ramos — RELEASED 12/10/19
Killer of PO Anthony Mosomillo
Ernest Alston — RELEASED 12/26/19
Killer of PO Melvin Hopkins
Orlando Puente — RELEASED 1/6/20
Killer of Lt. Jan Brinkers
Barrington Young — RELEASED 3/27/20
Killer of PO Harry Ryman
Steven Chirse — RELEASED 4/21/20
Killer of PO Angelo Brown
Karl Dean — RELEASED 5/21/20
Killer of Det. Joseph Taylor
Russell Carroll — RELEASED 7/28/20
Killer of PO Robert Sorrentino
Sergio Voii — RELEASED 8/31/20
Killer of PO Michael Russell
# # #The Police Benevolent Association of the City of New York (PBA) is the largest municipal police union in the nation and represents nearly 50,000 active and retired NYC police officers.