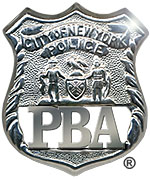 PRESS RELEASE
February 16, 2021
---
PBA blasts City Council's anti-Cop bills amid subway violence surge
After a weekend marred by gruesome murders, stabbings and assaults on the city's subways — which comes on top of a months-long shooting surge above ground — the PBA is opposing a slate of bills being heard today by the City Council's Committee on Public Safety that would further hamstring police officers' efforts to combat the violence.
PBA President Patrick J. Lynch said:
"New York City police officers just spent the weekend picking evidence out of pools of blood on subway cars. We've spent the better part of a year collecting shell casings by the bucketful from our streets. Today's Public Safety Committee hearing should have been devoted to a serious discussion of the strategies, resources and support we need to stop the violence — topics on which the committee hasn't held a single hearing in at least eight months. Instead, we get another raft of absurd bills meant to help lame-duck Council members pad out their anti-cop resumes for their next political job. While New Yorkers are dying, this is how the City Council is spending its time. It's shameful and infuriating."
 The PBA today submitted detailed memoranda in opposition (copies available here) to four of the most egregious bills recently referred to the Public Safety Committee:
Resolution 7100 – Removes the Police Commissioner's Exclusive Authority Over Discipline
The PBA opposes this resolution on the grounds that it represents unprecedented and ill- considered intrusion into the Police Commissioner's cognizance and control of the Police Department. Moreover, to the extent that Reso 7100 contemplates authorizing the Civilian Complaint Review Board to make final disciplinary determinations, that agency lacks the impartiality, law enforcement background and experience and infrastructure necessary to take on that great responsibility.
Introduction 2220 – Creates a Local Right of Security Against Unreasonable Search
The PBA opposes this bill — which is unenforceable as it is preempted by state law — because it removes longstanding safeguards protecting police officers acting in good faith and within the scope of their employment from unreasonable civil liability. Intro 2220 would not only unnecessarily expose police officers to an unprecedented financial burden for doing their jobs, but it would chill the operations of law enforcement to such an extent that it would contribute to and accelerate the already unacceptable level of violence in New York City.
Introduction 2209 – Requires Confirmation of the Police Commissioner
The PBA opposes this bill because it runs directly counter to the Council's stated goal of "bringing accountability to New Yorkers" by diluting the Mayor's accountability for Police Commissioner and NYPD's performance, ignoring the largely successful example of exclusive mayoral control of the city's schools. 
Introduction 2212 — Requires NYC Commission on Human Rights to Investigate Past Professional Conduct by NYPD Employees
The PBA opposes the inquisition regime imposed by this bill because will serve to discourage police officers from engaging in enforcement activities. In the current environment, law enforcement activities are already subject to heightened review and second guessing at the time they are taken. To create a regime that would now allow second guessing well into the future, even into the retirement of the officer, raising concerns associated with stale or unavailable evidence and statutes of limitations and repose, will through design or default have the effect of chilling law enforcement activity.