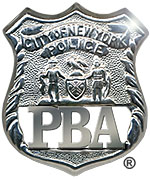 PRESS RELEASE
September 1, 2022
---
NYC PBA honors NYC Police Commissioner Keechant Sewell as "PBA Person of the Year"
First sitting NYPD commissioner to be honored by PBA
 The Police Benevolent Association of the City of New York (PBA), the nation's largest municipal police union, today honored New York City Police Commissioner Keechant L. Sewell, as its 2022 Person of the Year at the union's 128th annual convention in Albany.
The award, presented by PBA President Patrick J. Lynch at a luncheon attended by hundreds of PBA members and guests, is given for outstanding contributions to New York City police officers and the law enforcement community.
SEE PBA VIDEO OF REMARKS HERE:
00:20 - Lynch remarks
09:12 - Lynch praises Sewell
13:40 - Award presentation
16:05 - Sewell remarks
Lynch noted that Commissioner Sewell, New York City's 45th police commissioner and the first woman to lead the NYPD, was confronted by a baptism of fire as she took the helm of the nation's largest police department at the beginning of this year, with six NYPD members shot in her first 32 days in office – including two hero police officers murdered in Harlem – amid a citywide surge in shootings and crime.
PBA President Patrick J. Lynch said:
"We are not simply honoring Police Commissioner Sewell for who she is – we are honoring her for what she has done. Her appointment was indeed historic, but so too were the challenges she has met head-on. She has already steered the department through a series of crises and tragedies that began a mere hours after she was sworn in. Through it all, she has continued to pay close attention to the needs and concerns of cops on the street. That kind of steady leadership deserves recognition."
Police Commissioner Keechant Sewell said:
"I am truly humbled and honored to receive the PBA's "Person of the Year" award. And though I am grateful, it is the women and men this union represents who are the ones deserving of recognition. It is each of them on the front lines who selflessly and courageously serve New Yorkers."
Commissioner Sewell has been a virtuoso performer in law enforcement. Queens born and raised, she has been an FBI-trained hostage negotiator, joint terrorism task force member and undercover detective. She joined the Nassau Police Department in 1997 as a patrol officer and soon rose in the ranks, filling many key positions. After commanding two detective squads, she was appointed the Nassau PD's Chief of Detectives in Sept. 2020.
Previous PBA Person of the Year recipients include senators, governors, members of Congress and many other notables from government and law enforcement. The award was last presented in 2019 to Tunnel to Towers Foundation Chairman Frank Siller. Commissioner Sewell is the first sitting NYPD police commissioner to be honored by the PBA in at least 20 years.    
The luncheon took place during on the second day of the three-day convention at The Desmond Hotel, 660 Albany Shaker Road.