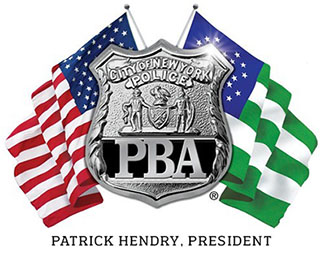 PRESS RELEASE
November 2, 2022
---
NYC PBA pushes red wave in Congress
Union backs six Republicans in key House races, including Lawler and Schmitt in Hudson Valley, Stefanik in North Country
The Police Benevolent Association of the City of New York (NYC PBA), the nation's largest municipal police union, today announced its endorsement of Mike Lawler for New York's 17th Congressional District and Colin Schmitt in the 18th Congressional District, as well as its support for the re-election of Rep. Elise Stefanik in the 21st Congressional District.
These homestretch endorsements follow the union's previously announced support for Republicans Rep. Nicole Malliotakis in the 11th Congressional District, Rep. Andrew Garbarino in the 2nd Congressional District, and Anthony D'Esposito in the 4th Congressional District.
PBA President Patrick J. Lynch said:
"New York City police officers know better than anyone that one-party rule is making our neighborhoods less safe. In both Washington and Albany, total Democratic control has allowed the party's most radical members to push policies that make our job more difficult and dangerous. This anti-police environment has driven many of the Finest away from the NYPD at a time when we need them most. The candidates we have endorsed for Congress represent different communities in different parts of our state, but they all have one thing in common: they are not only committed to supporting and protecting police officers while we are on duty – they have pledged to help us support and protect our families, as well."
The NYC PBA's Congressional endorsements complement its endorsements of 20 Republicans and 13 common-sense Democrats for the New York State Senate and Assembly, where Democrats currently hold a veto-proof majority in both houses. The union has also supported its goal of a more balanced and rational state legislature with significant financial contributions to a variety of campaigns and committees, including a $100,000 contribution to the Senate Republican Campaign Committee.
# # #The Police Benevolent Association of the City of New York (PBA) is the largest municipal police union in the nation and represents nearly 50,000 active and retired NYC police officers.