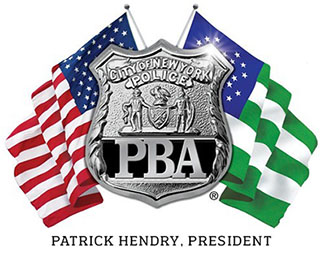 PRESS RELEASE
November 18, 2019
---
Parole Board robs slain Cop's family of right to oppose parole
The New York State Board of Parole sank to a new low last month, when it failed to provide the family of slain New York City Police Officer Anthony Mosomillo with an opportunity to oppose the parole release of one P.O. Mosomillo's killers.
PBA President Patrick J. Lynch said:
"The con game that the Parole Board just ran on the Mosomillo family is an utter disgrace. Over the past year, we have seen multiple instances in which the Parole Board staff lied to or misled the families of fallen police officers in an apparent attempt to deprive them of their legal right to oppose the release of their loved ones' killers. They should just close down the Office of Victim Assistance, because they aren't even pretending to care about crime victims anymore. They are rolling out the red carpet for cop-killers and other vicious criminals at every turn, while our families live in fear of being victimized a second time."
Margaret Mosomillo, widow of fallen P.O. Anthony Mosomillo, said:
"Every two years, I have been forced to relive the pain of losing Anthony in order to deliver my victim impact statement — and always during the holidays, when I feel his loss the most.  This time, I didn't even get that opportunity. Just a cold letter saying 'your husband's killer is being released.' That letter is what every family of a murdered police officer dreads, but the Parole Board could not care less. They have trampled my rights and hidden behind bureaucracy. Their sickening disregard for our family should serve as a warning to every crime victim in New York State. If they can do this to me, they can and will do it to you."
Convicted cop-killer Betsy Ramos, who was sentenced to 15 years to life for her role in P.O. Mosomillo's 1998 murder, was initially denied parole in January 2019, after members of the Mosomillo family appeared before a Parole Board panel to deliver victim impact statements.
However, Ramos appealed that decision and was granted a new parole hearing on October 29. The Parole Board's Office of Victim Assistance, which is tasked with liaising with crime victims and arranging victim impact statements, failed to notify the Mosomillo family of the appeal and new hearing. As a result, the family had no opportunity to deliver a victim impact statement to the new parole panel and Ramos was granted parole with a scheduled release date of December 10, 2019.
P.O. Mosomillo, who as assigned to Brooklyn's 67th Pct., was shot and killed on May 26, 1998 while attempting to serve a bench warrant on parolee Jose Serrano — Ramos' boyfriend — for missing a court date. When P.O. Mosomillo and his partner discovered Serrano hiding in a trapdoor in Ramos's East Flatbush apartment, Ramos attacked the officers. During the violent struggle, Serrano got possession of P.O. Mosomillo's partner's weapon and fired, striking P.O. Mosomillo four times. P.O. Mosomillo returned fire, killing Serrano, before succumbing to his injuries at Kings County Hospital.
The Parole Board's deception of the Mosomillo family follows the discovery earlier this year that the Board was secretly rejecting letters opposing the parole of cop-killers that were submitted via the PBA website. Since revealing the Parole Board cover-up, the PBA has printed and delivered nearly 900,000 letters from the public opposing the parole of dozens of cop-killers, including Ramos.
# # #The Police Benevolent Association of the City of New York (PBA) is the largest municipal police union in the nation and represents nearly 50,000 active and retired NYC police officers.